In daily life, we often find that domestic elevator users generally lack elevator professional knowledge and specialized elevator service personnel, but the safety cannot be reduced. Therefore, even for a home villa elevator, understand its function according to the passenger elevator standard and prevent some safety measures from being taken.
Generally speaking, there are two kinds of door opening, automatic door and manual door, but both have electromechanical interlock function to prevent the landing door from being opened when the door is open and the elevator is not in use. To prevent shearing and collision, foreign 2-story home elevators generally do not have hoistways or doors, but take anti-shearing and collision measures.
Set up light curtains to avoid rubbing and crushing hazards. The utility model adopts the design of a manual swing door. When there are no doors in the car, install light curtain doors to ensure there is no risk of friction and crushing.
Equipped with power-off emergency leveling function and equipment. However, in abnormal situations such as maintenance, this function should be used. Plane layout and shape of the car: Generally speaking, in order to save area, double-leaf side-opening automatic doors are mostly used, and the side-opening scheme is also more reasonable. Usually, the villa elevator adopts the industry standard shaft with a width of 1200mm, the corresponding car width is 850mm, and the door opening width is 700mm. The lifting method of the elevator is mostly light steel structure, and the lifting method is mostly U-shaped steel structure.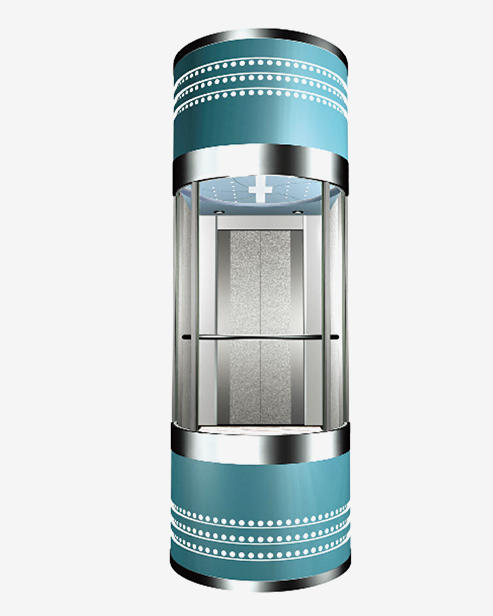 1. Bottom and top design and installation:
Generally, the pit is equipped with buffers to accommodate the bottom of the car. Some thermoclines cannot excavate the bottom, and the height of the top layer is small. Home elevators are designed to be flexible and adapted to local conditions. Ordinary pits use 100mm. If there is no pit, decorative ground can be used to borrow pits. Bottom height should be greater than 2350mm. Generally speaking, family homes have low floors and are mainly used by the elderly and people with limited mobility. Home elevators can't be too fast. Three layers can use 0.2m/s, and more than three layers can use 0.25~0.3m/s.
2. Internal and external:
Home elevators are based on the principles of simplicity, beauty and generosity, adding highlights to family life. Sightseeing car, metal material car, leather car, polyester soft car, ceiling lamp, mirror lamp and energy saving lamp can be added. Exterior veneer, tile or marble can be used, or paint can be used directly. In a word, home elevator installation involves civil construction, structure, decoration, electrical, waterproof, reinforcement and shock absorption. Noise reduction, safety and other expertise.
3. Pay attention to the installation of the villa elevator: when the home shaft leaks, under normal circumstances, the villa elevator manager should immediately disconnect the switching power supply of the villa elevator after opening the villa elevator in a high-permeability building; if the water wets the villa elevator, immediately stop Use the villa elevator on any floor and disconnect the switching power supply of the villa elevator. The group's staff then blocked the water. After the water resource is blocked, dehumidification, such as hot air drying. After the flood disaster, the villa elevator maintenance personnel must carry out strict inspection or maintenance before it can be put back into use.