What are the advantages of small home elevators? Many families want to decorate home elevators, but some home elevators have relatively high requirements for size and installation. If the requirements are not met, this type of elevator cannot be installed. Many families are limited by this situation, and small home elevators are just right. After solving these problems, what are the advantages of small home elevators?
(Small villa home elevator) Comes with integrated hoistway, and there is also optional panoramic glass sightseeing hoistway. Even if there is no elevator shaft reserved, it can also be installed. It can be installed directly on the ground. It occupies only about 1m2, and the space utilization rate is as high as Around 70%. In addition, there is no need to excavate a pit, no civil engineering, no top-level height restriction without a machine room. You don't have to worry about installing a small one that will damage the home decoration style or underfloor heating, and you don't have to worry about affecting daylighting.
Advantages of small villa home elevator:
1. Small enough elevator
The minimum size of the small elevator covers an area of ​​about 0.84m2, the reserved size is 1020*980mm, and the completed size is 600 × 830mm, which can accommodate 2-3 people in the family and has a load of 300kg.
2. Small size and large space utilization
The small household elevator has its own integrated glass shaft, which is flexible and adaptable. It can be installed in the middle of the stairs, beside the stairs, against the wall, in the existing shaft, or outdoors. For places where the height of the top floor is limited, it can be installed half way. High door design.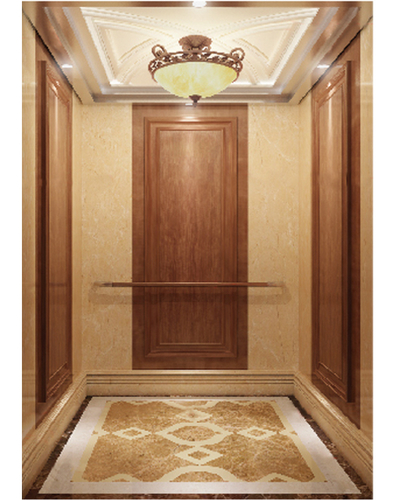 3. Family sightseeing, integrated into home decoration design
Elevators can be customized for panoramic sightseeing elevators, with mirrored ceilings and five-sided sightseeing options, more transparent and brighter, high-quality presentation with LED backlight technology, intelligent touch panel operation, intelligent and simple operation, so that your villa home small elevator is more suitable for you Home style.
4. Safe and durable, low maintenance cost
The small elevators are safe and durable. They are driven by screw rods. The screw type elevators are extremely safe, and there is no risk of rising or falling. Due to the simple structure, the later maintenance price is not high.
Home elevators are different from public spaces. Considering the limited installation space, no dedicated hoistway, small lifting height, etc., the design is more simple and miniaturized, and the machine room is not necessary. There are more and more villa groups in the city. In order to improve the quality of life, many villa owners will choose to install home elevators in their homes. Before installation, the owner needs to know the price of the home elevator in advance and make a corresponding budget in advance.