What size is suitable for a small elevator? Elevators of different sizes have different load capacities. Each family can use different sizes according to their needs. The use of small elevators can save more space and can effectively avoid frequent ups and downs. Elderly people, children, and pregnant women in the house are more suitable to use this kind of small elevator. So what size is a small elevator suitable for home use?
First of all, we need to determine according to the installation and use environment, such as the area of ​​the villa and the actual environment in which the elevator is installed. We generally choose the style of the elevator in combination with the overall decoration style of the villa when determining the size. In this way, not only will it not affect the beauty of the villa, but it may also add points to it.
Home elevator classification
According to different classifications of home elevators, the structure is different, and the structure also determines the size. There is also a lot of room for choice in different configurations and sizes of home elevators to choose. It needs to be analyzed in detail. Home elevators are classified into hydraulic home elevators, machine-room-less traction home elevators, and screw home elevators. The structures are all hoistways and pits, lifting platforms or cars, landings, etc. The more landings, the height of the size also increases.
Screw home elevator size
Different brands of screw home elevators have different specifications and sizes. The smallest size can be about 1 square meter, and an ultra-small and exquisite elevator with an area of ​​1.2m*0.9m or 1.1m*1.6m. Compared with hydraulic home elevators and machine-room-less traction home elevators, screw home elevators are much more advanced in function, appearance, and technology. The exquisite and compact elevators can be customized according to the owner's requirements, which are more used in high-end villas.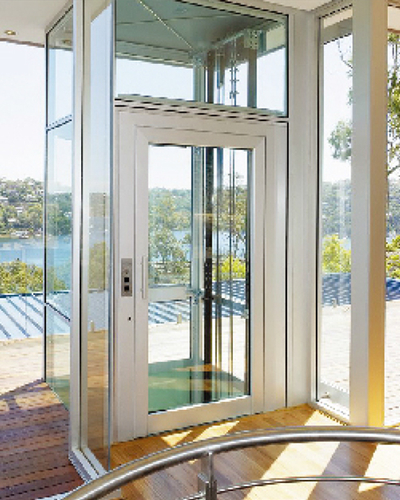 Hydraulic home elevator size
The minimum size of hydraulic home elevator can be about 950*1100mm. This varies according to the type of elevator provided by the manufacturer. Different types of hydraulic home elevators have different sizes and different load-bearing weights. The minimum size of a common hydraulic household elevator has a bearing capacity of 400KG, an internal size of 800*1250mm, and a space requirement of 1200*1380mm. The load-bearing capacity is 500KG, the internal size is 1100mm*1600mm, the space requirement is 1500mm*1760mm and so on. There are also some large-brand manufacturers that can customize smaller specifications according to the actual situation of the owner.
Traction elevator
Traction elevator is a large model elevator. Compared with hydraulic domestic elevator, it needs larger hoistway, higher top floor space and pit depth. It is more suitable for some users who require more space. The traction elevator has a load-bearing capacity of 1000KG, the internal size of the traction elevator is 1400mm*1980mm, and the space requirement is 1900*2100mm. Usually the width is 1100-1500mm.
What size of small elevator is suitable for home use? In summary, when choosing a small elevator, you can consider how many members are inherent in your family, and you can consider whether there are often outsiders. These can all be considered in choosing a small elevator of what size.