1. Traction type machine room-less villa elevator
This elevator is driven by traction. It is also a very common villa elevator on the market. The elevator has the advantages of mature technology, strong operation stability, rich configuration, convenient and fast maintenance, and high cost performance. On the premise that the installation space is sufficient, it is the choice of the villa elevator.
2. Hydraulic elevator
This elevator is hydraulically driven. Hydraulic villa elevators are often used to replace traction villa elevators that cannot be installed. The disadvantage of the integrated shaft size and lower integrated operation requirements is that the machine room needs space to store the hydraulic pump, the hydraulic cylinder oil seal leaks, the maintenance cost is high, and the selling price is higher than the traction villa elevator.
3. Seat
This seat ladder can also replace the traction elevator. Serving renovated villas or villas without installation space. The utility model has the advantages that the installation does not need to damage the original decorative surface, the installation is convenient, and the installation period is short. However, this product cannot be considered an elevator in the strict sense. Manufacturers can produce without production qualifications, so there are certain security risks.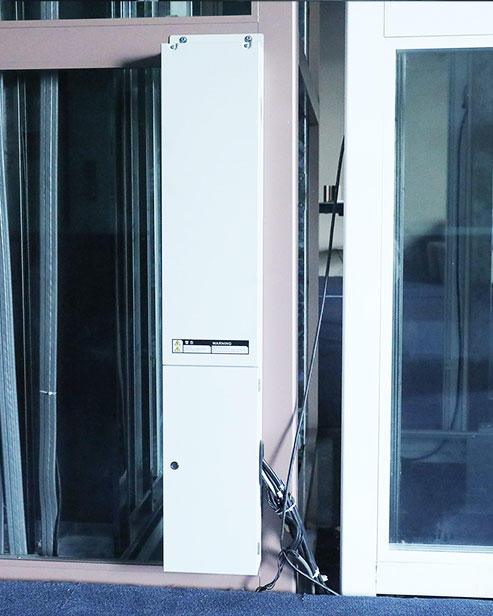 The power consumption comparison of villa elevators in driving mode is as follows:
1. Traction villa elevator
Using the lever-type working principle, it is very energy-saving. The core host component of the traction elevator is the permanent magnet synchronous motor. Taking villa elevators with loads of 320kg and 400kg as an example, the rated power of the traction machine is about 1kW/h. The power consumption of the traction type home villa elevator is very energy-saving and environmentally friendly among all villa elevators. Just talking about numbers, you probably don't have any idea. Let's take a common household appliance as an example. The power consumption of this villa elevator is comparable to that of a large household refrigerator. Energy saving and quietness are also one of the many advantages of the traction villa household elevator.
2. Spiral villa elevator
The structure of the spiral villa elevator is actually very simple, that is, the entire elevator is driven up and down by a large screw. It is because of this driving mode that the speed is very slow and the power consumption is not small. The rated power of the spiral villa elevator is 2.2kw/h.
3. Hydraulic villa elevator
The hydraulic elevator drives the car to move up and down through the hydraulic ejector rod. The common problem of hydraulic elevators is that they will leak oil after 3 years of use, which is not easy to maintain. The power of this driven villa is about 3.5kw/h, and the power consumption is higher than that of the traction type and the screw type.
4. Forced drive villa elevator
As the name suggests, a forced drive is a forced drive, so from the name alone, this drive mode is particularly power-hungry. At present, even if the forced driving villa elevator is more energy efficient, the rated power of the elevator is about 4kw/h. Therefore, it is one of the four types of elevators that consumes a lot of power, but this driving mode is relatively rare in the field of villa elevators.16:22:06