When the elevator is at a standstill, there is no current passing through the coils of the traction motor and the electromagnetic elevator brake
. At this time, because there is no attraction between the electromagnet cores and the brake pads are under the pressure of the brake spring, the brake wheel is held. Make sure that the motor does not rotate.
When the traction motor is energized and rotated, the coil in the brake electromagnet is energized at the same time, and the electromagnet core quickly magnetizes and pulls in, driving the brake arm to make the brake spring force, and the brake shoe opens, and The brake wheel is completely disengaged and the elevator can run.
When the elevator car reaches the required stop, the traction motor loses power and the coil in the brake electromagnet loses power at the same time. The magnetic force in the electromagnet core disappears quickly, and the iron core is braked under the action of the brake spring. The arm is reset, so that the brake shoe will hug the brake wheel again, and the elevator stops working.
Elevator brake is a friction brake that generates bidirectional electromagnetic thrust when energized, which separates the brake mechanism from the rotating part of the motor. When the power is off, the electromagnetic force disappears. Under the action of the applied brake spring pressure, a friction brake is formed for power failure.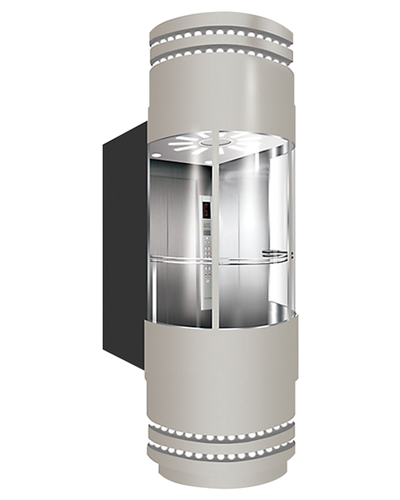 There are two types of brakes commonly used in elevators, one is brake shoe type and the other is disc brake type
.
The brake shoe type usually uses the brake shoe to hold the moving parts (flywheel) of the traction machine to achieve the purpose of braking.
This braking method has a simple structure and is intuitive and easy to adjust. Disadvantages: The wear is severe, long-term use requires frequent inspections of wear and tear, and the failure of the placed brake may cause an accident.
The disc brake type brakes the traction machine wheel to complete the braking effect by imitating the way of car braking. The advantage is that the braking effect is better, the noise is low, and the wear condition is lower than that of the brake shoe type. The disadvantage is that the structure is more complicated, the adjustment requires special tools, and certain skills are needed to master it.